Our horse is called Sokrates
We offer all children in kindergarten and nursery a unique opportunity to ride a horse once a month on Saturday morning.
Come to visit us at Ranch u cesty (http://www.ranchucesty.cz/kde-nas-najdete) and let your child taste the beauty of the world from a horse back.
The horse will be led by an owner – Gabriela Berankova – while you can make sure your child is safe and settled firmly on the saddle
This activity may be viewed as part of Saturday trip, new impulse for children or as a form of hippotherapy, which is a form of physiotherapy utilizing a natural movement of horse as an impulse and rehabilitation aid
Why?
Children are fascinated by horses; they know them from fairy tales and stories but often do not have an opportunity to come close to them
You will see, what an impression it will leave on your child to be confronted face-to-face with a real living horse – chance to touch him and mount to a saddle
In the event of your interest, please arrange a date personally at nursery. We offer you this activity free of charge as a part of 'kindergarten tuition fee,' hence you do not have to make any extra payment!
Do not forget to bring along a cycling helmet for your child. We look forward to seeing you. We are starting already in September 🙂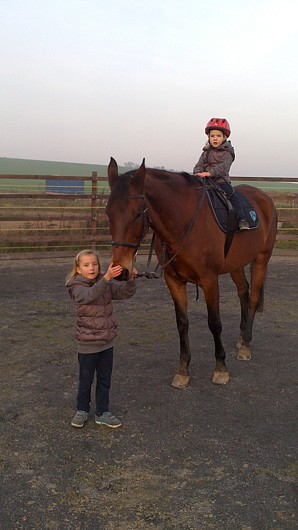 And this is how it looks like when all of us from kindergarten go to visit our horse 🙂